Spotted Turtle
Clemmys guttata
| | |
| --- | --- |
| Kingdom | Animalia |
| Phylum | Chordata |
| Class | Reptilia |
| Order | Testudines |
| Family | Emydidae |
| Genus | Clemmys |
| Species | C. guttata |
| Lifespan | 25 to 30 years in the wild, maximum of 50 years |
| Size | 3 to 5 inches |
| Offspring | females lay 2 to 8 eggs in June and July, usually in open meadows or fields |
| Status | Threatened in New Hampshire, illegal to possess, sell, import, harm, harass, injure, or kill in New Hampshire |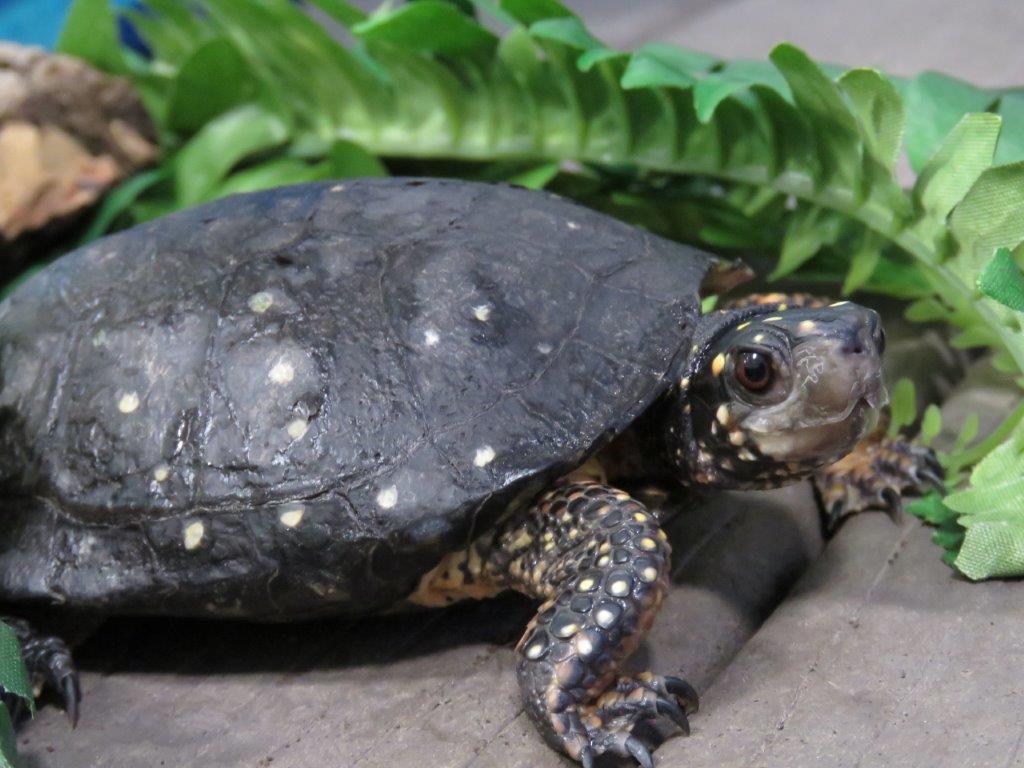 ---
About Spotted Turtles
What do spotted turtles look like, and with what species are they most often confused?
Spotted turtles are small turtles often recognized by their vibrant yellow spots covering their dark carapace. The number of spots can range from zero to more than one hundred, and may be found on the head and limbs as well. The spotted turtle does not usually surpass 5 inches in length. It is most often confused with the Blanding's turtle, which is typically 7 to 9 inches long and has yellow speckles on the carapace. The Blanding's turtle has a characteristic yellow throat and chin, which distinguishes it from the spotted turtle.
What kind of habitat do spotted turtles prefer, and why?
Spotted turtles live in wetlands with shallow bodies of water and plenty of vegetation. While searching for suitable nesting sites, these animals will rely on terrestrial habitat extensively. During hibernation, spotted turtles remain under tree or shrub roots in wetlands or vernal pools. These habitats are suitable to spotted turtles, because they provide the necessary resources: aquatic wildlife and vegetation for feeding, shelter, protection from predators, a safe location for laying eggs, and access to water.
What should I do if I come across a spotted turtle in the road or a high-traffic area?
Often, people believe that if they find a turtle trying to cross a high-traffic area that they are seeking out a pond or body of water. Although this is sometimes true, it is not always the case. Therefore, if you come across a turtle in a road, help the turtle cross the street in the same direction it was already going. Otherwise, the turtle will likely turn back around and attempt to cross again, further threatening its survival.
---
Fun Facts!
Female spotted turtles use their hind legs and feet to dig a hole where they will lay their eggs. The hole is typically 2 to 2.5 inches deep and 2 inches wide. Spotted turtle eggs are oval shaped and have thin, flexible shells. The female covers her nest and disguises it by dragging her body across the dirt to smooth it out.
Spotted turtles congregate for hibernation, which begins in mid-October. As many as twelve turtles have been found together during hibernation.
Turtles cannot "shed" their shells. A turtle's shell is like a spine and rib cage in humans; it gives the animal stability and structure.
---
Mammals
---
Birds
---
Reptiles and Amphibians
---
Fish