Hiking Trails
Enjoy getting Nearer to Nature on a hike through fields, forests, and wetlands. Trail admission tickets are required to access hiking trails.
Hiking Tips
Please be respectful of distancing around other hikers on Science Center trails.
Wear proper footwear with good traction.
Bring water and sunscreen.
Mosquitoes, blackflies, and ticks love the forest too! Be prepared with protective clothing or insect repellent.
Tread lightly and have fun!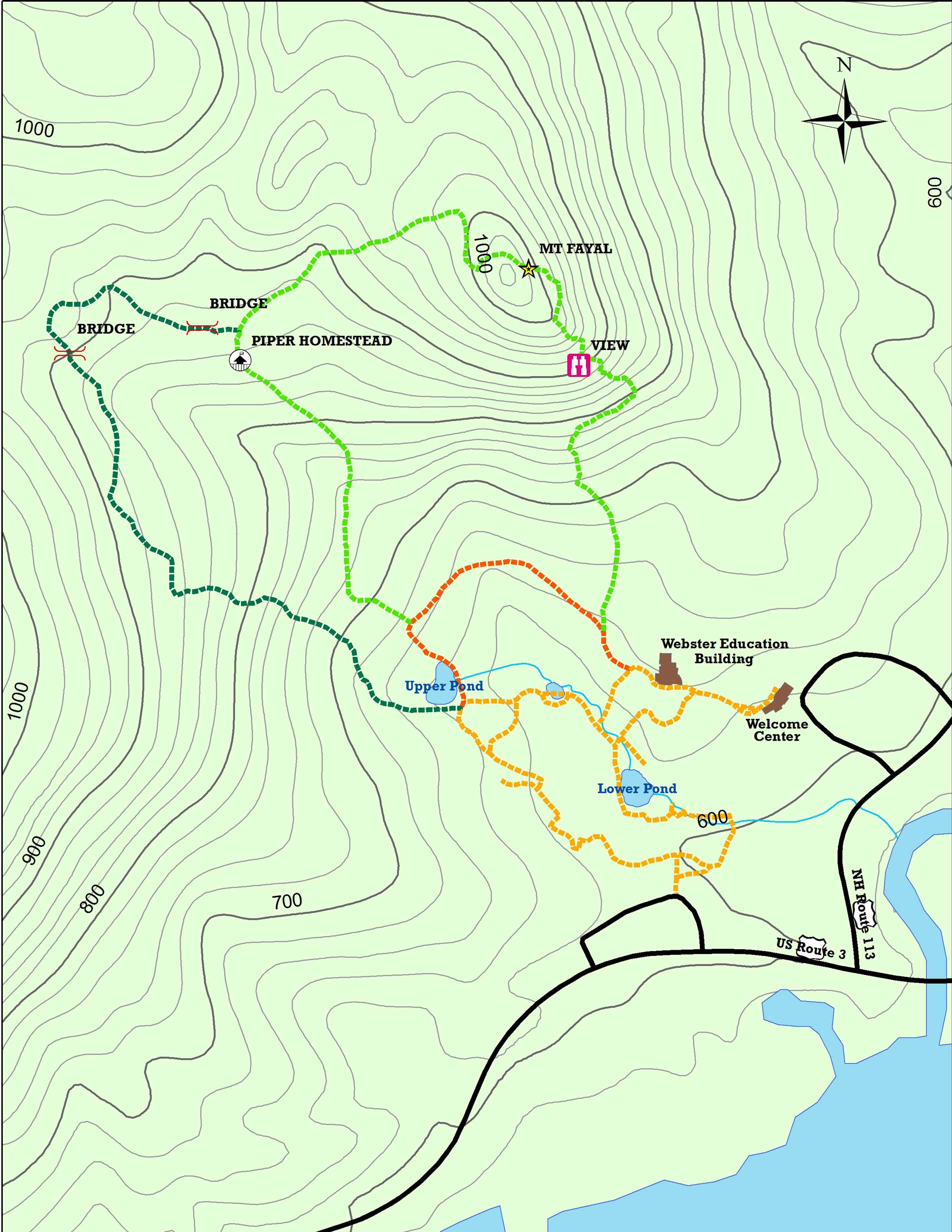 Hiking Trails
Ecotone Trail
Distance: 1/3 mile
Time: 30 minutes
An ecotone is the "edge" where two different natural communities meet. Examples of ecotone areas include the shore where a lake and forest meet, the edge between a marsh and field, and the area between a thicket and pasture. The Ecotone Trail is a 1/3-mile hike, which will take you about one-half hour. It follows the boundary between field and forest with excellent habitat for numerous animals with abundant food and shelter.
Forest Trail
Distance: 2/3 mile
Time: 1 hour
Follow the yellow blazes
Explore 30 acres of forest to spot evidence of past and present human use of the forest and wildlife signs, and also learn ways forests can be managed for both wood and wildlife. Along the way you'll see a few areas which have been harvested using different forestry techniques to demonstrate their effect on trees, wildlife, and other plants.
Mt. Fayal Trail
Distance: 1 mile
Time: 1 hour
Follow the red blazes
This trail to Mt. Fayal Trail, elevation 1,067 feet, offers beautiful views of Squam Lake. You may catch a glimpse of some truly wild creatures or interesting plants and trees. You will also be able to find signs of past human activity on this mountainside, such as remnants of the old Piper Homestead. It includes the ruins of stone foundations of both the farmhouse and barn, and the stone walls outlining former sheep pastures.