Live Animal Exhibit Trail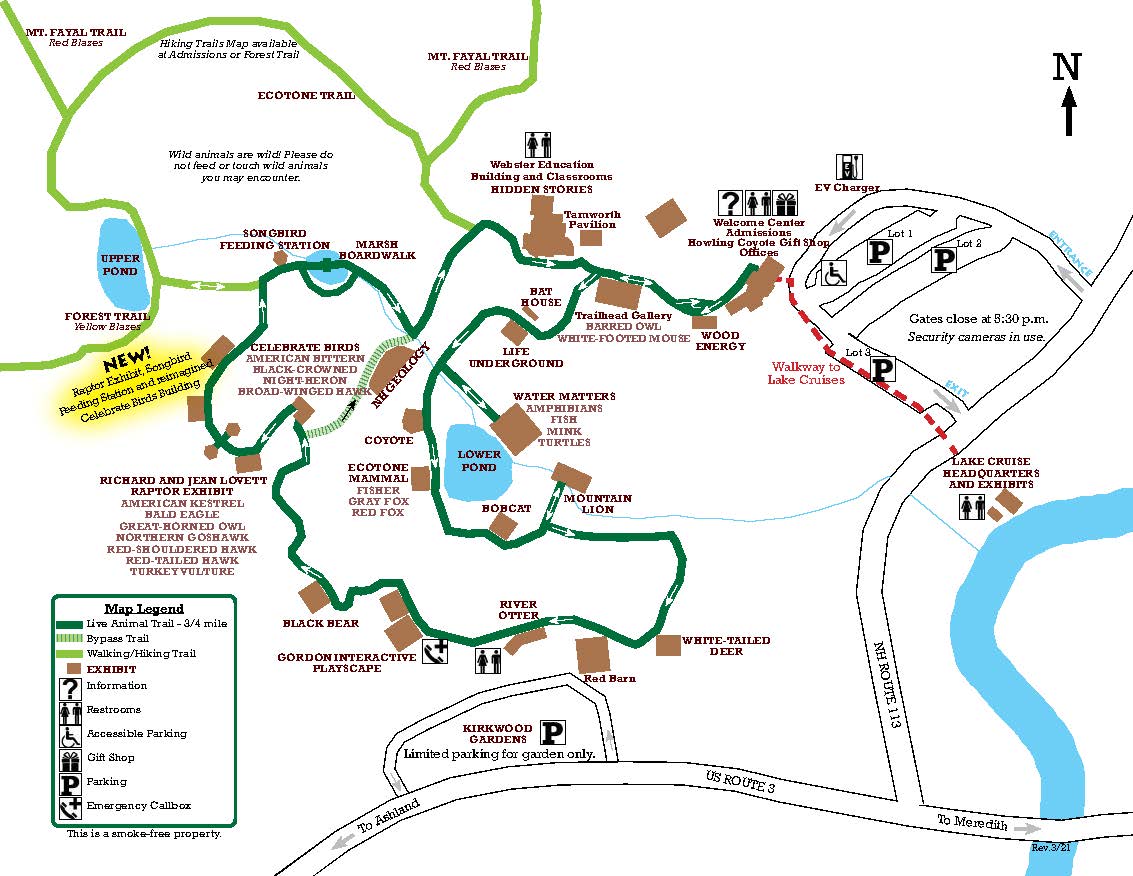 ---
Exhibit Information
Plan two hours to walk the 3/4 mile live animal exhibit trail which meanders through open meadows, mature forests, and marsh boardwalks on a packed gravel path.Click on an exhibit to learn more.
Welcome Center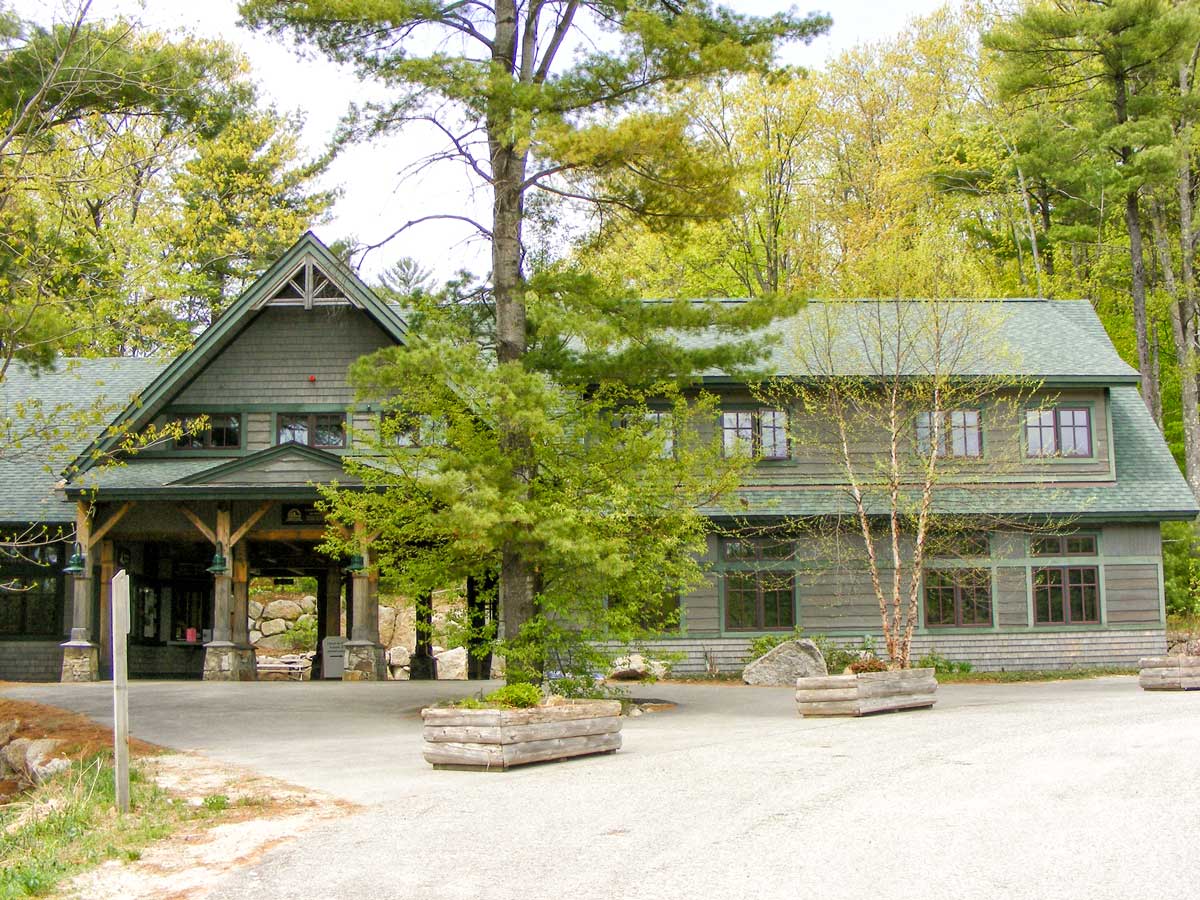 The Welcome Center is where you will check in for your allotted trail admission time. You may check in 15 minutes before and up to 15 minutes after your scheduled ticket time. Explore the outdoor
Howling Coyote Gift Shop
. The Welcome Center also houses administrative offices. Two EV charging stations are free for use by Science Center visitors only during regular operating hours. Gates close at 5:00 p.m.
Wood Energy Exhibit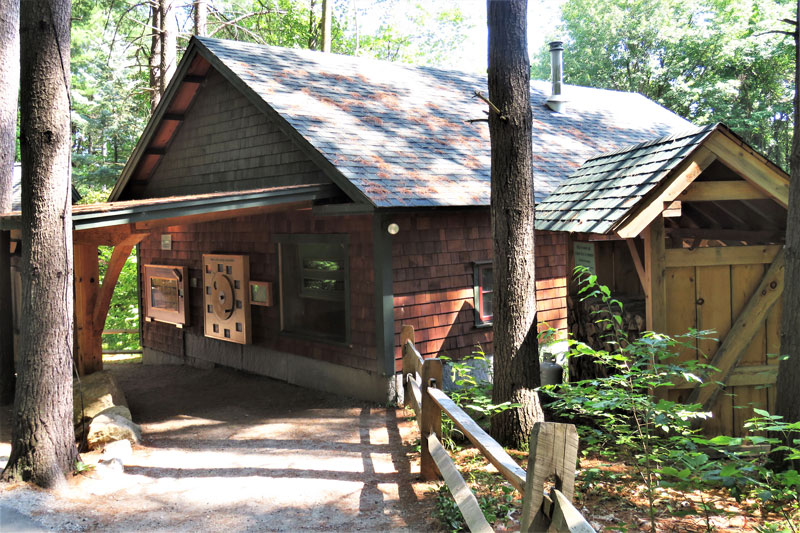 A model of sustainability: saving energy and dollars. The Wood Energy Exhibit uses sustainably-harvested, locally-sourced wood to heats five major buildings on the Science Center's campus.
Picnic Area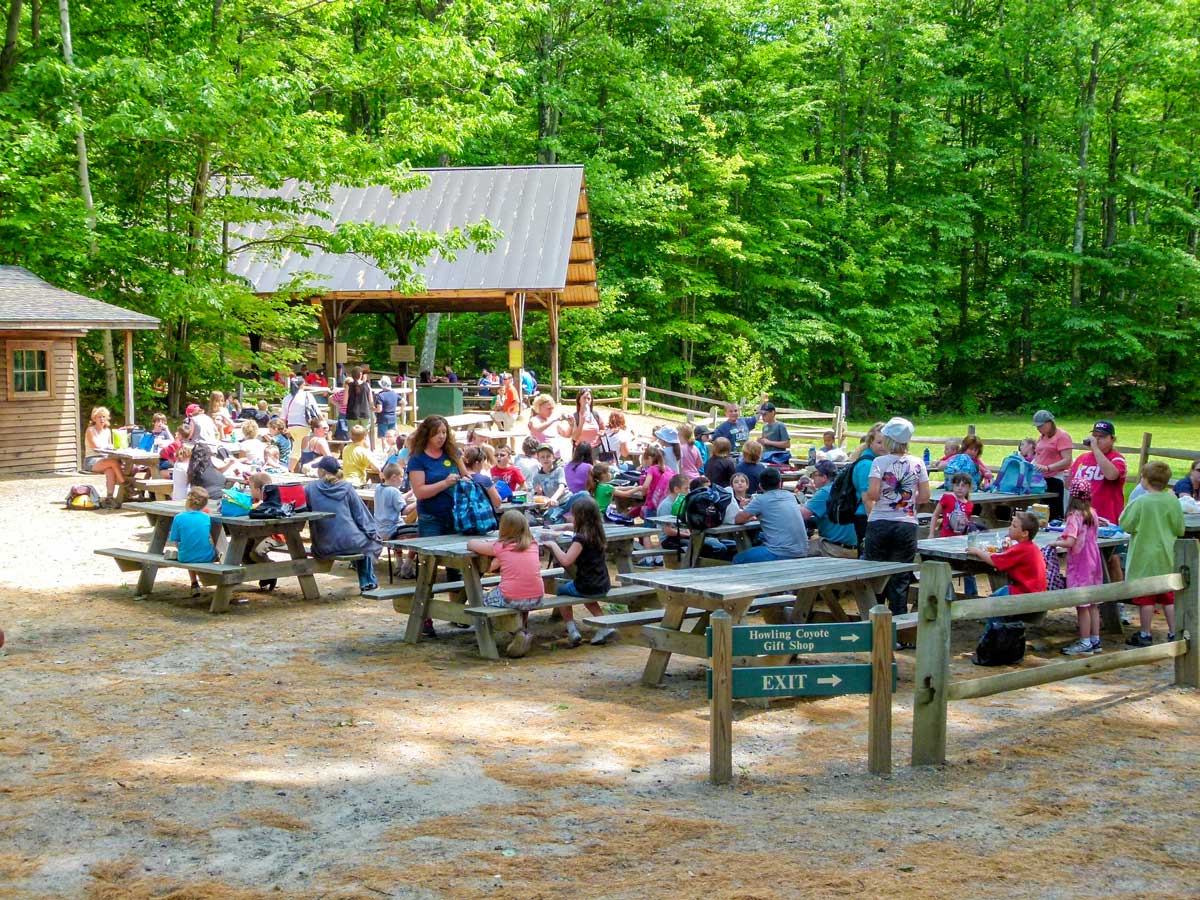 The Picnic Pavilion and Area are closed.
Tamworth Pavilion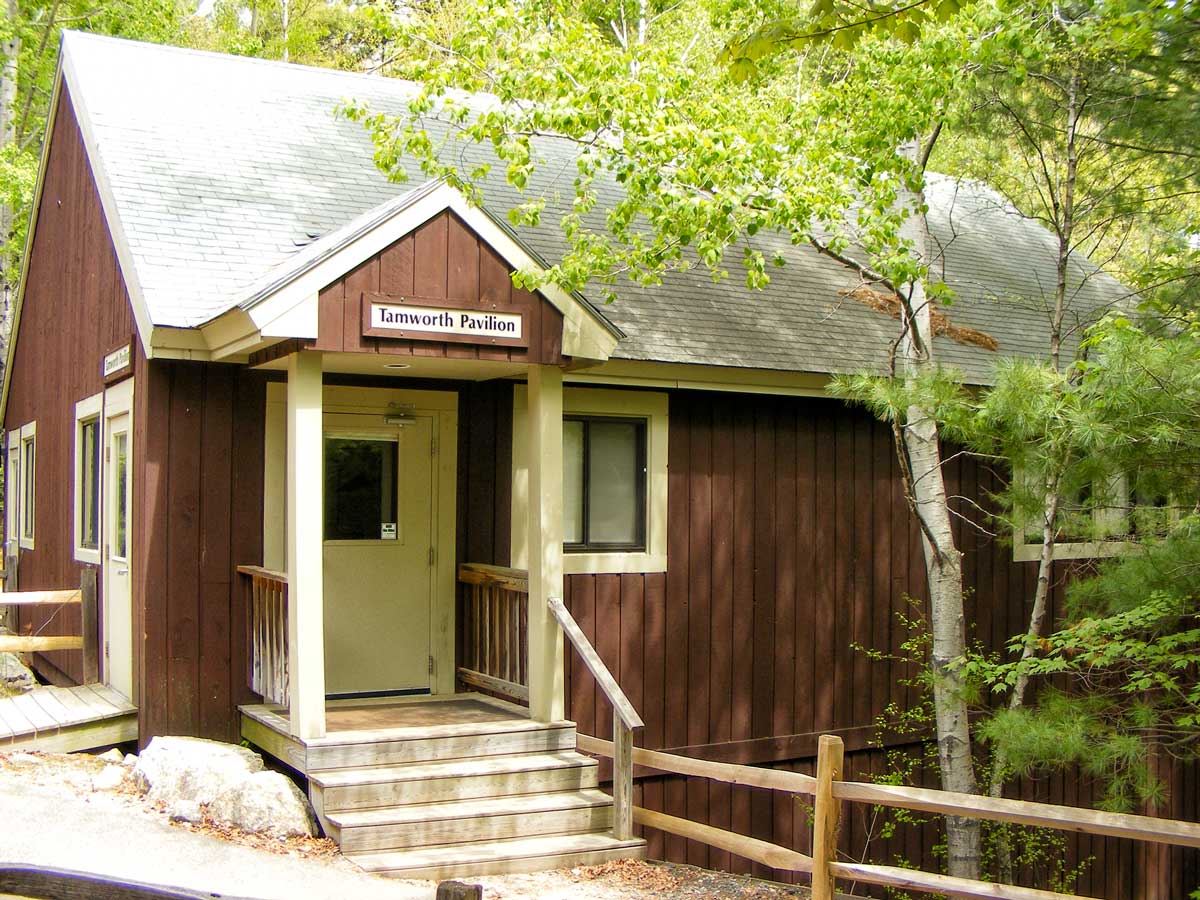 The Tamworth Pavilion is closed.
Webster Education Building
The Webster Education building features the Hidden Stories Exhibit and three classrooms primarily used for
school programs
. It also houses administrative and education offices and animal care.
NEW! Hidden Stories Exhibit
How does wildlife use a landscape? Does it change over time? What stories have been captured using trail cameras? To help answer these questions visitors virtually explore the natural communities at Squam Lakes Natural Science Center using maps, still images, video clips and graphs we've collected over the past two years. Four species, red fox, white-tailed deer, coyote, and black bear are highlighted in the exhibit. This exhibit is located in the Webster Education Building lobby.
Learn More
Trailhead Gallery
The Trailhead Gallery includes Barred Owls, White-footed Mice, and our introductory Exhibit (Habitats, Adaptations, Populations, Interrelationships).
Life Underground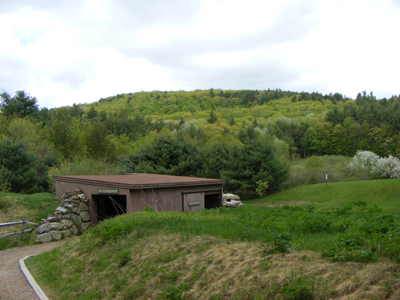 An amazing number of animals make their living in the soil. One handful of healthy topsoil may contain more living organisms than there are humans on Earth! You will meet ants and earthworms up close and peer at tiny soil animals through a microscope. You can also travel down a human-size chipmunk burrow. This exhibit addresses concepts such as how soil is formed, which organisms can help create and aerate soil, and what adaptations animals may have in order to survive underground.
Amphitheater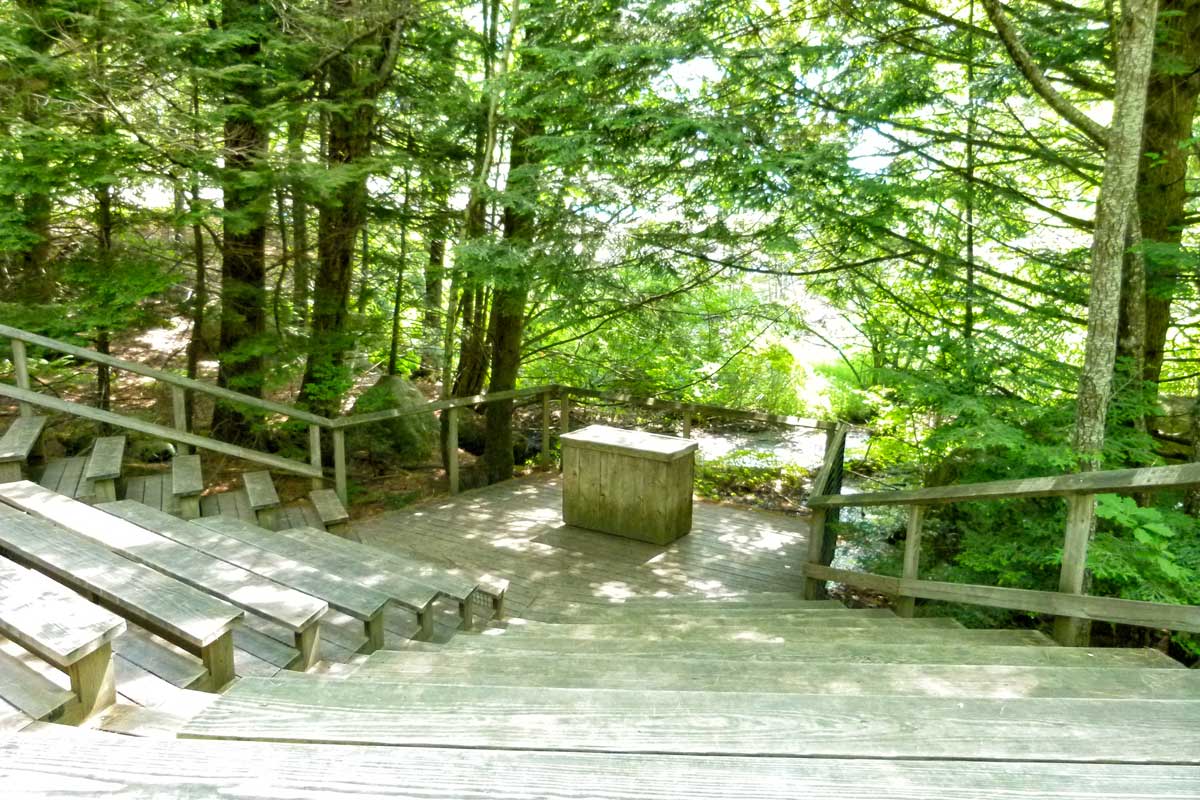 The Amphitheater is closed.
Water Matters Pavilion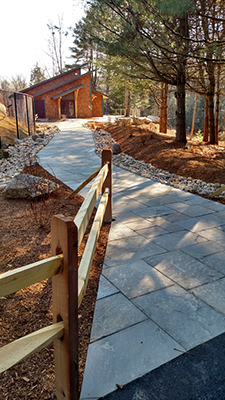 Explore the world of water 18 water-related exhibits. Listen to frog calls; take a virtual tour of the Squam Watershed; create an interactive landscape in kinetic sand to learn how water moves; learn about ice; visit the live mink, turtles, and frogs; spy fish in the warm and cold water aquariums; plus much more!
Coyote Exhibit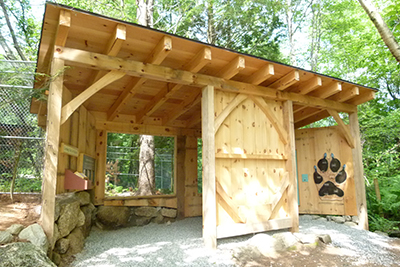 Coyotes are cousins to dogs, wolves, and foxes, first seen in New Hampshire in 1944. They have spread across the state from the northernmost reaches down to the seacoast. Coyotes are currently common throughout the state. This exhibit houses the Science Center's resident male coyote. Try to match the coyote posture to the behavior and listen to a coyote call. Plus, learn how coyotes and wolves are similar and different.
Ecotone Mammal Exhibit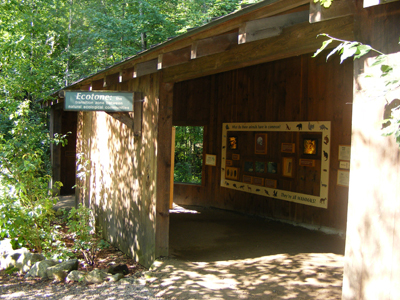 The Ecotone Mammal Exhibit reveals the interrelationships of creatures living in an "ecotone" or the edge between two natural communities. There is often greater diversity in wildlife at these edges. Using interactive displays, this exhibit describes these areas, provides examples of animals that depend on them, and also addresses some of their adptations. This exhibit is the home to three different types of animals that are generally found living in an ecotone: red fox, fisher, and gray fox.
Bobcat Exhibit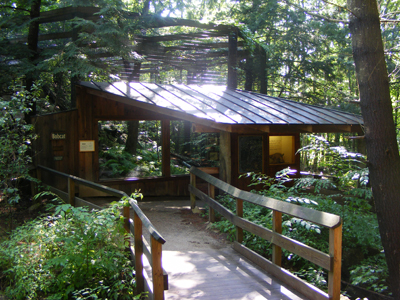 The bobcat gets its name from its short, or "bobbed" tail. An adult weighs 15 to 25 pounds and can live up to 14 years. Predators like bobcats help maintain healthy populations of prey animals by weeding out sick and injured animals. This in turn reduces the chance the prey animals will overeat and damage their habitat or starve. See live
bobcats
up close as you learn if bobcats have any predators and what they eat.
Mountain Lion Exhibit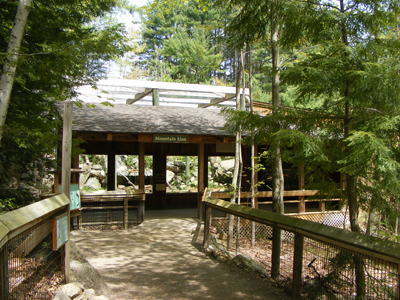 The mountain lion has one of the widest distributions of any mammal in the western hemisphere. They are able to survive a wide range of conditions and have the skills to hunt many different types of prey. This exhibit emphasizes the adaptations these animals have to hunt - how high and far they can jump or how much they can lift - and also addresses the ecological concept of extirpation. Large carnivores are rarely seen in New England since they need a lot of uninhabited space. An example of the interrelationships between animals and humans would be when early settlers, afraid for their safety and that of their livestock, over-hunted and eliminated mountain lions in New England. See if you can see the retractable claws of the live mountain lions at this exhibit.
White-tailed Deer Exhibit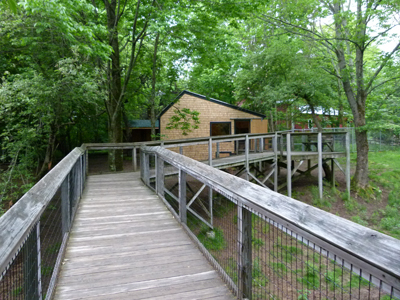 White-tailed deer are found throughout New Hampshire. This exhibit addresses many of the adaptations that enable deer to outwit their predators and survive, and also emphasizes some of the natural conditions that limit the population of deer in New Hampshire. Most natural predators (wolves and mountain lions) were extirpated in New Hampshire by the turn of the nineteenth. The only remaining predators of white-tailed deer in New Hampshire are humans and also occasionally domestic dogs, coyotes, and bobcats. Observe the live white-tailed deer in this exhibit and learn about their habitat through hands-on activities.
Red Barn
The Red Barn and bathrooms are closed.
Kirkwood Gardens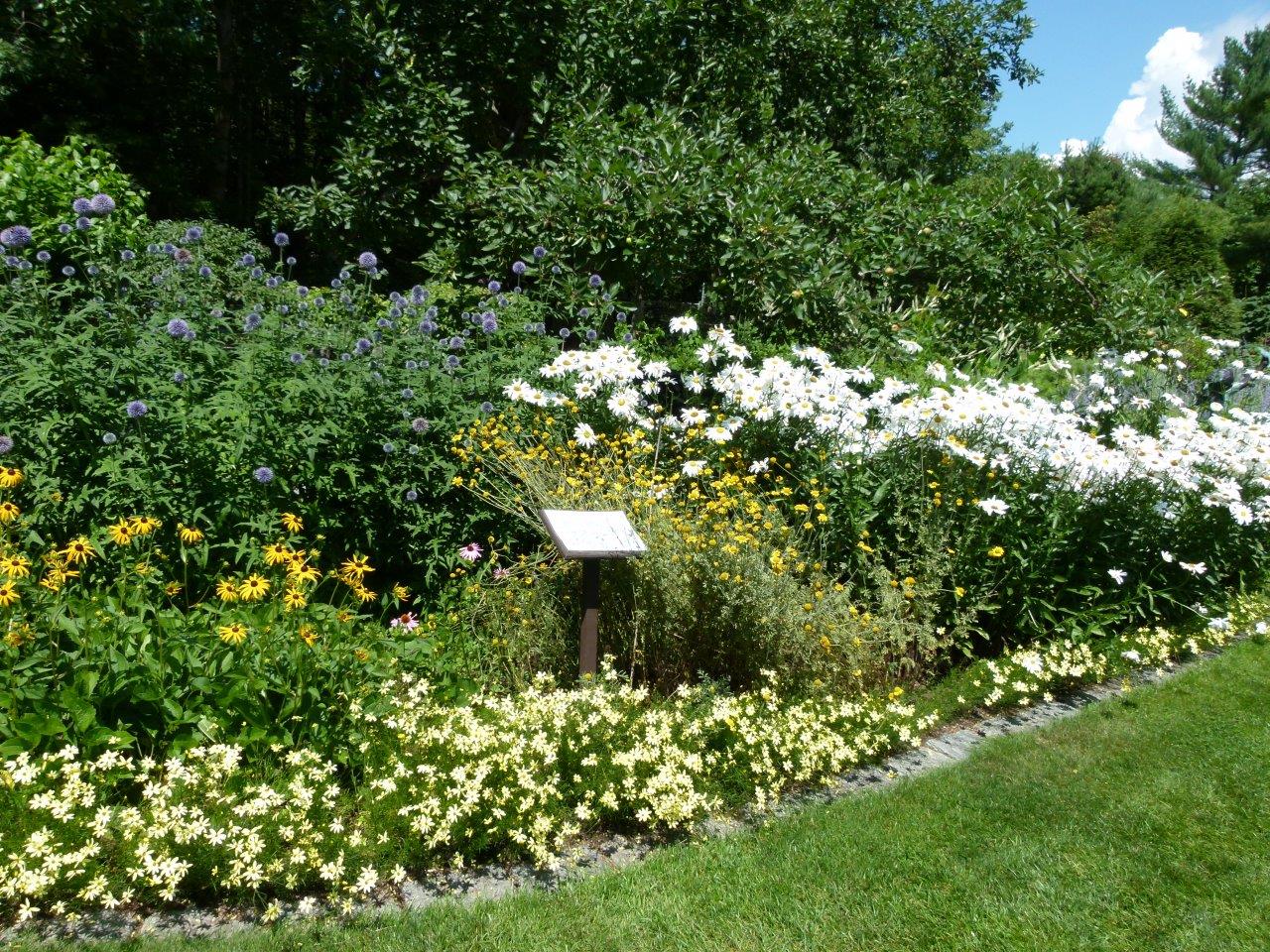 Colorful plants in full bloom bring this informal garden to life, naturally attracting bees, butterflies, and birds of many species. Kirkwood Gardens is free and open to the public. To visit Kirkwood Gardens, drive to it and park there. The bathrooms there are closed.
Learn more
River Otter Exhibit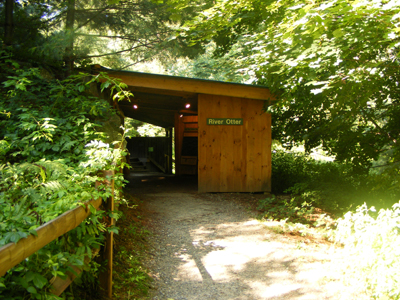 River otters have adaptations that allow them to live in marshes, swamps, rivers, ponds, and lakes. Otters are commonly found in New Hampshire. Their habitat requirements include unpolluted aquatic environments with unmanaged tree-lined shores. This exhibit emphasizes these requirements and also provides examples of aquatic adaptations and threats to otter populations. Watch live river otters swim with underwater viewing at this exhibit.
Gordon Interactive Playscape: A Predator-Prey Adventure

Gordon Children's Center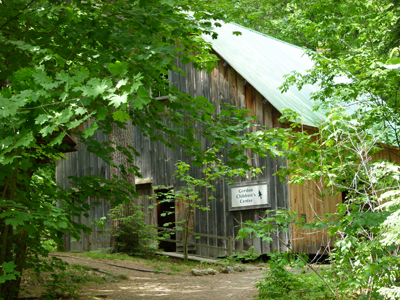 The Gordon Children's Center is closed.
Black Bear Exhibit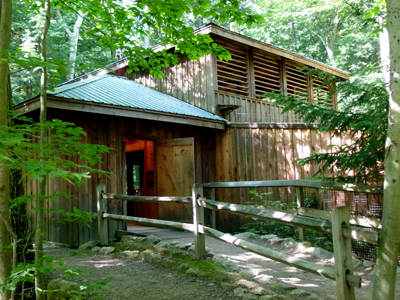 Black bears live in heavily wooded areas in New Hampshire. Although classified as carnivores, the majority of their diet consists of plant materials. Black bears have many interrelationships in the forest. This exhibit provides examples of some of these interrelationships and also provides details about their diet, behavior, and populations. You can learn about bears by crawling into a winter den, completing puzzles, learning about bees with our viewable hive, and observing live black bears in their habitat.
Celebrate Birds Exhibit
The Celebrate Birds Exhibit is closed for renovations and will reopen in 2021.
Raptor Exhibit
We are building a new Raptor Exhibit which will open in 2021.
Upper Pond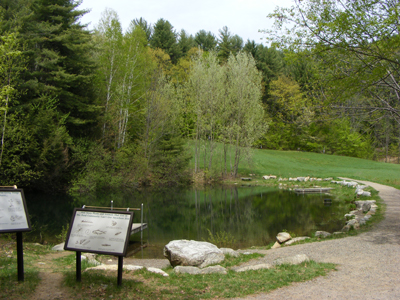 The Upper Pond provides examples of different types of wildlife that depend on wetlands and ponds. Some animals spend their entire life in water, like fish, while others rely on water for part of their life cycles, like toads. If you listen closely you can usually hear the croak of a frog or may even observe a great blue heron, duck, or other water-loving bird at the Upper Pond.
Wetlands Walk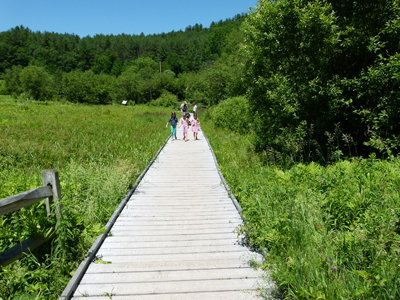 The Wetlands Walk takes you across a small man-made wetland, over an area of wet meadow, and across a small stream. Watch for frogs, salamanders, and turtles, as you learn the importance of wetlands along the way.
Geology Exhibit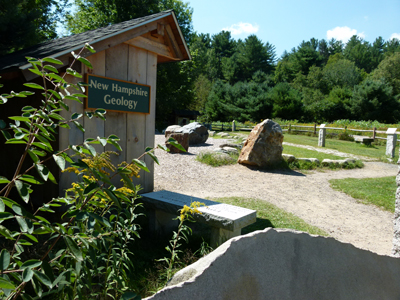 This exhibit highlights the geologic history of our planet and provides examples of the different types of rocks found in New Hampshire. Explore different rock types and take a walk through time to learn about the formation of our Earth.
Lake Cruise Headquarters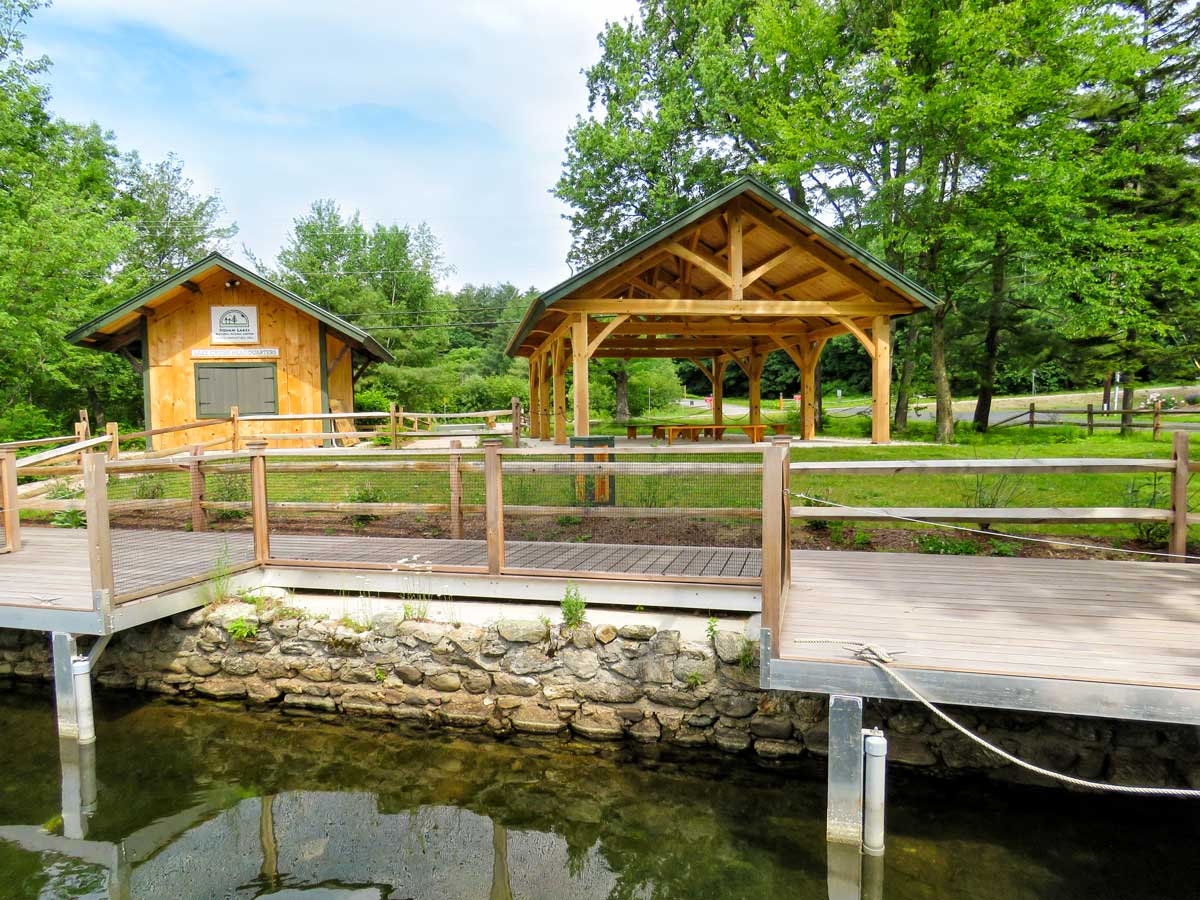 Solar powered Lake Cruise Headquarters provides a comfortable departure point for Squam Lake Cruises. The timberframe pavilion with benches provides an outdoor classroom for school programs and a place to gather before public cruises. Learn about solar electricity and lake turnover at interactive exhibits.
---
He treasured this corner of the earth and wondered of its mysteries.The Gephart Trail is informally and frequently called the live animal exhibit trail or live animal trail on this website and in other published pieces. The Gephart Trail is named in memory of William Stephen Gephart (1951-1968). His parents, F. Thomas Gephart and Sarah Lou Taylor Gephart, shared that love of earth's mysteries and helped others to know it through their support of the Science Center.
Squam Lakes Natural Science Center has educated and enlightened visitors since 1966 about the importance of our natural world thanks to the vision, energy, and generosity of people such as the Gephart family. Tom and Sally were involved in the early days and both served terms on the Board of Trustees, as later did their son John.